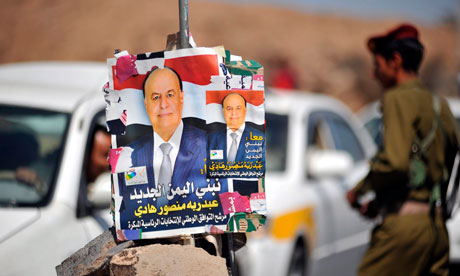 Yemen became the first Arab country to have reached a negotiated settlement following the uprising last year. Resultantly, voters headed towards the polling stations to exercise their right adult franchise for the first time in over three decades bringing President Saleh's rule to an end.
The referendum-fashioned polls where Saleh's deputy Abdrabuh Mansur Hadi is the only contesting candidate have been boycotted by the southern group of separatists and the Shia rebels. However, the main protagonists of the 2011 uprising were the Yemenis who had proclaimed all out support for Hadi.
While the majority of Yemenis are heading to the polls, the southern rebels have called for a civil disobedience movement, disrupting election activities. The election day is already marred with violence as reports of attacks on polling stations and clashes between the government troops and factions of the southern rebels are pouring in. A total of 103,000 soldiers have been deployed at various locations across the country for the protection of polling stations.
Hadi, himself a southerner, has promised to address the concerns of both the southern and northern separatists, saying that 'only dialogue' can amicably resolve the on-going conflicts.
Hadi, as the new President of Yemen will stay in power for an interim period of two-years, after which presidential and parliamentary elections will be held, a condition of the Gulf-brokered transition deal signed by Saleh in November 2011.
Article publié pour la première fois le 21/02/2012